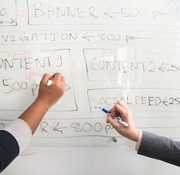 Enterprise Workflow Automation
Customised open-source BPM system, ProcessMaker to meet enterprise cloud security guidelines, brand guidelines and UX requirements, resulting in faster automation of various business processes and significant cost savings.
The customer is one of the largest mobile service provider operating in the country. It provides high-quality modern services to consistently create better value for its customers and partners. The company operates the widest 4G network in the country fulfilling the national need of high-speed mobile broadband and creating new opportunities for the country towards a brighter digital future.
HTML5, CSS, JavaScript, PHP, ProcessMaker, MySQL
Challenge
The customer already had a BPM system but was quite expensive and time-taking to customise along with very limited integration capabilities with various other systems. This was slowing them down from achieving their digital transformation goals as required for improved operational productivity and efficiency.
The challenge was to find a cost effective enterprise solution that supports quick turn-around, cloud ready, secured and can be integrated with various other systems of Ncell.
Solution
We proposed to utilize one of the most popular open-source low-code BPM engines, Processmaker and make required customization to tailor-fit the enterprise requirements. It made perfect sense from the cost and customization flexibility perspective. Within a few months, we made customizations for better user experience, branding guidelines, and enterprise security compliance. After that, 10+ business processes in the Finance, HR and IT department were implemented. There are dozens of processes in the pipeline for implementation. The solution resulted in significant cost savings and accelerated digital transformation in some of the key process areas in the organization.