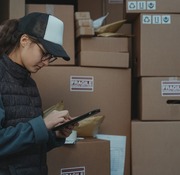 Warehouse Management System
The warehouse management system ensures inventories are received, stored, picked, packed, shipped in the most efficient way possible.
The customer is a leading Global Logistics Services Provider with offices world-wide. With over 50 years of expertise and a strong customer portfolio ranging across various sectors, it connects businesses across borders in Asia Pacific as well as serves as a global hub for the world.
HTML5, CSS, JavaScript, Asp.Net Core, MySQL, Base Stations, BTLE Tag
Challenge
The customer already had a BPM system but was quite expensive and time-taking to customise along with very limited integration capabilities with various other systems. This was slowing them down from achieving their digital transformation goals as required for improved operational productivity and efficiency.
The challenge was to find a cost effective enterprise solution that supports quick turn-around, cloud ready, secured and can be integrated with various other systems of Ncell.
Solution
Drop Positioning Systems – Singapore, our partner company had proprietary e-tags aka BTRE tags that could be attached to shipping packets for tracking purposes. Together, we developed an integrated solution that connected e-tags attached to packets with a web based system for simplified tracking and retrieval of packet location.
A web based Warehouse Management System was developed which used Bluetooth Low Energy (BTLE) tags and Base Station to track the customer packets faster. When the packets are received in the central warehouse, they are placed in BTLE tagged crates and stored at a certain section of the warehouse. The Base Stations are configured and installed in multiple areas of the warehouse for full coverage of BTLE signals. The crates remain in the warehouse from a few days to a few months. The BTLE tagged crate sends its identification and signal to the Base Station at regular intervals. The Base Station receives the signal and a web server tracks the location of the crate. When the order is generated to ship the crate, a warehouse person checks the crate location in the warehouse system. The warehouse is large and the crate is usually cluttered in that particular zone too. The warehouse person then sends a flash and beep signal to the BTLE tagged crate. The crate with the tag lights up or vibrates to alert the person. Now, the warehouse person can easily locate the crate, retrieve them and dispatch it.
The solution significantly improved the efficiency of the packet retrieval and shipping process.